OVERVIEW
Content Marketing World: Advance Insights
Date: Wednesday, September 2, 2020
Time: 11:30 AM ET/8:30 AM PT
Duration: 2 hour, 15 minutes
REGISTER NOW
* Denotes required.
Produced by: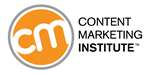 SUMMARY
Content marketing is changing. This year is different. Clients have different ideas. Agencies and marketing departments have new and adapted capabilities. Customers have shifted their focus, their wants, and their needs.
What does this mean for the future of content marketing? 100+ speakers, 50+ technology solutions, and thousands of industry peers will be ready to talk, partner, collaborate and more at Content Marketing World 2020 in October.
As we prepare for the big event, we want to provide our attendees and community with some advance insights from some of our leading partners and speakers. You'll hear from:
The event will be fast-paced, and it's designed to help you think big, think differently, break some rules, and get ready for even more game-changing content at Content Marketing World 2020 this October.